Knowing The Risks Of Restaurant Eating

Few of us can really say that we would not enjoy the chance to eat in a good restaurant more often, and there is no reason that we should turn our backs on restaurant eating once we go on a diet. However, the truth of the matter is that eating in a restaurant is not a risk because there are no healthy options or even that they are limited, but that we know so little about the healthy option.

When we take care of the cooking of food ourselves, we know exactly what is going into it and how it is being prepared. In a restaurant we leave it up to the chef. When you look over the menu in a restaurant, it is a good idea to have a healthy option or two in mind, and then ask the waiter when ordering how exactly the food is prepared.
Different restaurants will have different policies for how the food is cooked. Sauteed vegetables are usually healthy and delicious, but the difference between frying them in vegetable oil and fat is quite marked. Asking a few questions before committing to an order is never a bad idea, as long as you are polite and reasonable in doing so.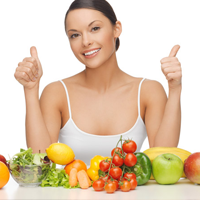 There may be some concern that the serving staff will lie to you or tell you what they think you want to hear in order to make you pipe down and order – but if you are reasonable and polite to them, they will be likely to reciprocate, and take on board your specifications on how you would like something to be cooked.